I started this practise over 22 years ago from humble beginnings. Since then MAK has grown to be a strong and stable company made up of a family of inventors, visionaries and exemplary architectural designers who live and breathe these principles to achieve success. With every new project we take on, we aim to learn and further refine our process, setting the bar higher and higher. We treat our client's projects as if they were our own. I strongly believe in the importance of good business practises, honesty and ethics, ensuring that these aspects are present in everything MAK does. MAK believes in fostering a pleasant work environment, exercising patience, approachability and working with a team that share similar work ethics and principles.
"We love to take on complex challenges – this has always been our key strength"
Our Values
"Knowing that any design, working drawing, or document isn't completed to the highest standard possible is something I just cannot accept nor deliver"
Quality and detail are the words that I believe best describes our work. They are the foundation on which our company has been built. They are present in every facet of our business, flowing through our approach to customer service and consultation, design practises and project completion. Our team strives to work with determination, passion and strength to ensure that every project is created from start to finish with precision and beauty that will last a lifetime.
We understand how the best solution always comes from developing a close and trusted relationship with clients, so we continuously challenge ourselves to develop new ideas and techniques that place us at the forefront of Architectural design.
Our Culture
We believe in fair treatment for all. The diversity of our team is central to our success.
There is a universal language of shared space that is spoken throughout the world. With MAK's experience spanning multiple countries, we understand the beauty of diversity. Our philosophy of inclusion has allowed us to gain new perspectives, being receptive to new cultural viewpoints that fuel our creative thinking in the field of architectural design. Because we see the value that diversity brings, our team is made up of many people who have walked different paths in life. It's these unique experiences that add colour to our design, and we can draw on this diverse range of knowledge to produce astounding results for our clients.
"Clients mostly that come into the office have a general idea of what they want. Some have a clear vision of the design or how to utilise that space, others just say they want a beautiful home to live in. For instance, they may wish to extend their existing house, make improvements or create something else out. This is where we work with their idea, take the time to develop it, and work with them to achieve their dreams for a new home or desired outcome. With our clients, we don't like to push or impose our ideas onto them, we listen and understand what you want, we create, discuss and then expand on it to accomplish the best results that exceed client expectation"
The process of creating high-quality architecture can be quite complex. We believe in clear, transparent communication that allows our clients to understand the process, ensuring that they are included and informed. We communicate every step of the way, using language that is easy to understand starting from conceptualisation through to the final build. Every step forward is a step together. We are a team. The first stage is to come into the office, meet the team and get to know us. Let's have a chat to understand your vision and what you are looking to achieve.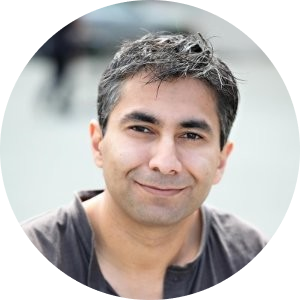 Manoj Dutta
Director
B. Arch, (Prof) Arch Studies, LBP, Reg CoA